Fall – 2017
By God's Divine Plan…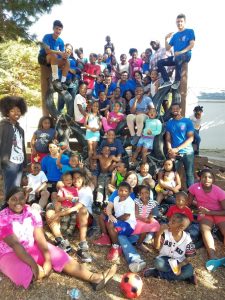 Urban Harvest has been penetrating some of the darkest, most violent and most desperate communities of Detroit, reminiscent of Fort Apache (the South Bronx) when we began ministering there 25 years ago. We are still deeply engaged in outreach, so this report will be brief. Here are some highlights:
In three strategic areas we targeted with many forms of outreach, shootings and killings took place the night before we began doing outreach.
A 16 year-old youth was killed in that park the night before. We didn't know that when we set up for a Community Family Day outreach in an area desperate for hope. While part of the group set up the grill, inflatables, and snow cone machines, the rest of us separated into groups of two's and three's to go door to door in the community. We walked around announcing the event and inviting people to come. We continually encountered individuals who would say, "You're having an event there? Someone got shot last night!"
We were about finished setting up when we saw a sign that stated, "No inflatables. No grilling…" About that time, a patrol car stopped by and the officer asked, "What are you doing here?" "We are having a Community Family Day. A time for people to enjoy with free food and games…" The police expressed their support and offered to return near the end of our event to make sure everyone remained safe. When this conversation was shared with one of the church leaders, she said, "That's great! But we already have permission from the park's powers-that-be," meaning the young men we would call the "CEO's" of that community.
So many people came to the park that day! Smiles were on everyone's faces. Followers of Jesus interacted with children, youth and adults. The dealers stopped their "business" and the pick-up basketball games stopped to watch the Ignite drama skits and hear the presentation of the Gospel. Several came to the Lord and were connected with the Hope for the City network church. We thank God for His protection but most importantly that many who were hopeless received hope in Jesus!
God gave us the opportunity to combat fear and despair with hope, love and joy, and the people are responding! Over and over again people have thanked us for coming, and many have placed their hope in Jesus Christ!
God has also opened doors! We now have a partnership with the leadership of one of the toughest projects of East Detroit. We shall continue to partner with them, strategizing with them and implementing faith-centered, on-going outreach to see lives change and peace come to this community!
This outreach ministry has effected those serving as well. Here are some of their comments:
It makes me not want to stop serving.
Going into this trip, I thought about all the ways that this would benefit me. But now I see how I can help impact others.
It makes me see how privileged I really am. Wow, I really don't need all the things I have. It leaves me speechless. These people need so much … We can't give them all they need, but what we give them can help.
We give them Jesus, and that makes all the difference!
Please pray for us and stand with us through your gifts as we continue to pour the love of Christ into the hearts of the poor and desperate in these communities!