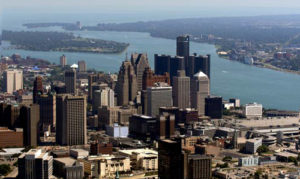 Detroit: July 15 – July 29, 2016
Hope for the City
There is so much hurt in so many places within our cities, but over and over again God has proven that He cares for the broken. He is simply waiting for His children to go out and reach them so that the cities can know His hope, His love and His eternal gift through salvation!
---
---
Hope for the City 2016 at a glance:
---
---
40 Days of Prayer and Fasting for Detroit • June 6 – July 15, 2016
In prayer and fasting, God will rend our hearts, tear down strongholds, and prepare the way for outreach! Churches and individuals choose a day of the week to fast and pray. Join us in prayer! Con rm your participation and receive Daily Devotionals by emailing urbanharvest@uhm.cc
---
Hope for the City Rally • July 15, 2016
7:00 pm at Restoration Fellowship Tabernacle Followers of Christ from around Detroit will come together for an evening of united worship and prayer for our city.
This event will launch Hope for the City outreach week.
---
Prayerwalking Detroit • July 16, 2016
Followers of Christ will gather at several locations to walk the streets of Detroit communities in prayer and bring hope to the doorsteps of people. We need you to join us this powerful outreach! God will change our city as we pray and walk obediently in the Great Commission!
LOCATIONS:
2pm Start Time: meet at start points at 1:30pm. (Click for maps.)
Canfield Church of God
12905 E Canfield Street, Detroit
Ferndale Assembly of God
1221 W 9 Mile Road, Ferndale
Restoration Fellowship Tabernacle
16776 Southfield Road, Detroit
---
Hope for the City Outreach Week • July 16 – July 29, 2016
Through strategic prayer and many forms of outreach, Christians will unite together to bring the hope of the Gospel of Jesus Christ to the streets of our city. Various forms of outreach include: Prayerwalking, Prayer Stations, Outdoor worship, Bible clubs, Children's and youth outreaches, Block parties, Family Days, Sports outreach, Homeless outreach, Church repair, Community and Park clean-up.
OUTREACH WEEK SCHEDULE
Monday – Friday, July 20 – July 24
Prayer Stations, Prayerwalking, & Homeless Outreach: 10:30am-3:00pm
Kid's Bible Clubs & Sports Discipleship Camp:s 2:00-8:00pm
Prayerwalking and Evangelism: 6:00-9:00pm
Community Family Days
Bring hope and joy to Detroit communities with these many ways to serve: Set up and clean up; cooking and serving hot dogs, snow cones, popcorn and water; sports (basketball and street hockey), face painting, balloon animals, games, and much more!
SUNDAY, JULY 17 –
Canfield Church @ 3:00 pm (set up at 1pm)
FRIDAY, JULY 22 –
Ferndale Assembly @ 6:00 pm (set up 4pm)
SATURDAY, JULY 23 –
Restoration Fellowship Tabernacle @ 1pm (set up 12pm)
---