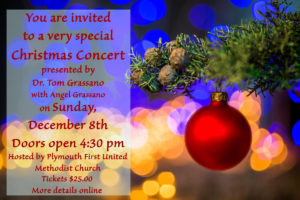 Join us for a special evening of Christmas music presented by Dr. Tom Grassano, founder & director of Urban Harvest Ministries, and featuring Angel Grassano.
Sunday, the 8th of December 5:00pm to 7:00pm
The Christmas Concert will be a joyous event featuring special piano and vocal music performed by Dr. Tom Grassano and featuring Angel Grassano. The program will include classical pieces and original arrangements of traditional Christmas music.
The event will begin with a silent auction and refreshments and end with a brief presentation about Urban Harvest Ministries. An opportunity will be given for members of the audience to invest with an end-of-year gift for families in need in Detroit and UHM.
Doors open at 4:30 pm.
Silent auction and reception will begin when doors open.
Come and enjoy a wonderful evening of music and fellowship!
RSVP online or by contacting us directly at
313-971-7450